Manufactured in our headquarters in Gosforth, Newcastle, our venetian blinds have been designed for both the luxury yacht market and the cruise and river cruise customer.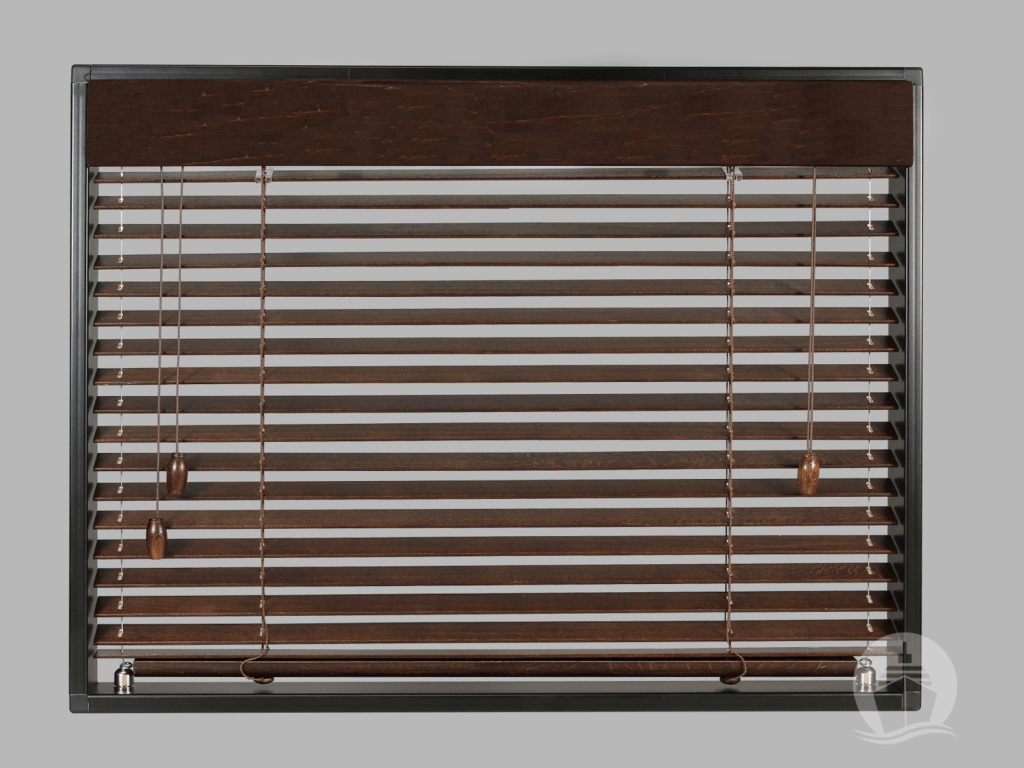 Solarglide manufacture venetian blinds in three styles; aluminium, wooden and leather wrapped. All the blinds operate in the same way regardless of the material being used. Venetian blinds offer the user complete control over light conditions; they can be tilted up or down offering a complete range of privacy options or they can be retracted fully up the window to reveal panoramic views of the world outside. The blinds can be made into a large array of colours, this is to allow interior designers to specify the style depending on the interior of the vessel. They have been developed and designed to be low maintenance, versatile while adding a classy touch.
A customer can choose from a range of different slat sizes; aluminium (15mm / 25mm / 35mm or 50mm) wood (25mm / 35mm or 50mm) and wrapped leather (35mm or 50mm). These particular blinds work well on yachts, as space is limited and the headrails are very narrow so they can fit into tight spaces and close to the window glass. If you are looking for a particular style or fabric, we are on hand to produce blinds that can feature standard slat colours (satin or matt finishes), as well as brushed, textured, perforated, embossed surfaces that create unique and exciting blinds.
Solarglide venetian blind projects Experienced in producing venetian blinds for a variety of different clients, it is no surprise that we have built a reputation for efficiency, creativity and quality. Here are a number of examples of clients that we have supported:
● Six 'chestnut wood effect' aluminium venetian blinds for the sun lounge area onboard superyacht MY Giorgia
● Nineteen Valley 'Faux Leather' venetian blinds for gulet style classic yacht for an Austrian client
● Five brushed taupe aluminium venetian blinds for chartering yacht operating in Gibraltar, Spain
● Five golden oak wooden venetian blinds for US boat builders
● Five native wood venetian blinds for UK boat builders based in Norfolk 1
● Eighty-one aluminium venetian blinds for a UK Yacht Builder
More information about our venetian blinds.
As mentioned, we can offer three different makes of venetian blinds; aluminium, faux leather and wooden.
Aluminium
Solarglide's aluminium venetian blinds provide a sleek and stylish alloy shading solution for boat, yacht, ferry, and cruise liner interiors. With overlapping horizontal slats, these blinds are ideal for onboard ensuite bathrooms, cabins, galleys, and restaurants.
Faux leather
Solarglide's Handcrafted, stitched and wrapped Faux Leather blinds are manufactured and installed by our talented production team, the faux leather venetian slats are much sturdier than your typical blinds, offering the highest levels of quality and sophistication for crew and passengers. A wipe clean product which is moisture resistant and marine resilient meaning a long life with low maintenance.
Wooden
Solarglide's wooden venetian marine blinds are classic, timeless, and elegant with a modern twist to suit the interior of any ship or yacht. Perfect for creating a luxurious feel to your interior, our wooden venetian blinds are an example of our commitment to amazing craftsmanship.