Solarglide Reminisce about the kings of North East Shipbuilding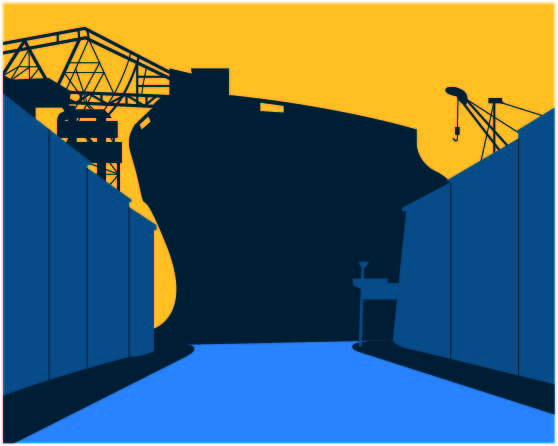 With a long and illustrious history of shipbuilding in the North East of England, Solarglide have used that strong connection to the maritime industry to grow a successful marine blinds business. Throughout history, the North East has heavily relied on the shipbuilding industry to stimulate the economy and provide employment to the thousands of workers that work in and around the ships.
At the start of the 20th century, half of the world's ships were being made in the North East of England. Along the four rivers of the Blyth, Tyne, Wear and Tees, many families relied on the shipbuilding and repair industry for their livelihood. Solarglide's connection to shipbuilding Paul Pringle, the Managing Director of Solarglide is the 4th generation of working in this industry and comes from a long line of shipbuilders. Solarglide discussed this very topic on BBC Radio Newcastle with the late Lisa Shaw. Solarglide has a wealth of maritime experience and local knowledge.
The North East will never lose its connection to the shipbuilding industry and it will play a vital part in the local economy.
The decline of shipbuilding not only happened in the North East but across the country, the impact of competition from Japan, South Korea and China reduced the production of ships dramatically. In 2011 only four ships were built in the UK. After the boom created by the First World War the industry was drastically reduced in size, and, by 1931, 60 percent of shipbuilding workers were unemployed. Further pain followed the Second World War, with surplus capacity, steel shortages, labour stoppages and inadequate levels of modern technology. In 1958-64, depression in world shipping coincided with intense competition from Japanese and European yards. 1 Importance of NE Shipbuilding during WWII It is estimated that more than three million tonnes of shipping were built in the yards on the nearby River Wear and in other north east yards, from 1914 to 1918. Tens of thousands of people were employed directly by firms like Doxford's, Palmer's Shipbuilding and Iron Company Ltd and Swan, Hunter & Wigham Richardson Ltd.
Historian, Ron French's father was an apprentice at this time wnt on to say – " The UK also had shipbuilding centres in Belfast, Glasgow and on the Mersey, all producing ships for the war effort,"
He further explained –
"Yet the Tyne, besides the merchant ships, managed to build one third of capital ships, that is battleships, 19% of cruisers, 28% of the destroyers, 29% of the escorts and 14% of submarines. "That is a substantial contribution, especially into quite a narrow river. Ships had to be launched at an angle, not straight out into the river, because they might crash into the other side."